Cowboygear.com
You can also visit our Circle S Cattle Ranch at www.circlescattleco.com and be sure to visit our new Cowboy Museum website ( a reference source for styles and makers of cowboy stuff) at www.cowboymuseum.org and www.cowboyspurs.com that specializes in classic western spurs.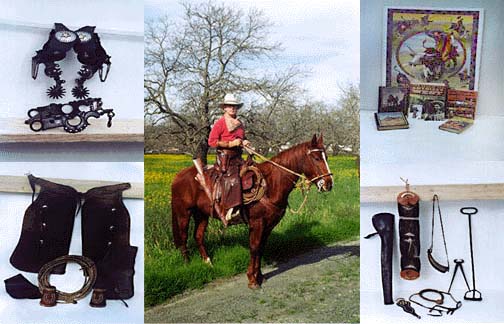 [ Spurs | Bits | Chaps | Western Art & Books | Miscellaneous ]

Contact ua at : cowboy@cowboygear.com



We Buy ($$$) and Sell Authentic Cowboy Gear and Western Antiques



Relive the "old west" as you browse through these pages. Much of the gear here is "old" stuff used by cowboys and has been passed down to all of us as part of our heritage. Enjoy yourself and if you see something you need or just like to view. You working cowboys might come across some hard to find equipment. Most of our gear comes from cowboys, ranches, auctions and private collections. We buy collections, individual items and partial estates. If you are in possession of some Old West items and want an offer from us, email a description of the item with photos, tell us how and when to contact you, how much your asking for the item and we will contact you within a few days.

Our terms are simple: You pick the item you want, email us so we can reserve it. If you are first to reserve that item, we will confirm back to you. You can then send us a money order for immediate shipment or you can send us a personal check and we will ship when the check clears the bank (10 days to 2 weeks). We have a 100% satisfaction policy. If you are unhappy with the item, you can return it for full credit or money back less a $25 administration fee, if you ship the item back within 10 days of your receipt. This policy applies to all items except saddles. Saddles are purchased as-is with a no return policy. If you are unhappy with a saddle, we will negotiate a return if it has not been used or damaged.